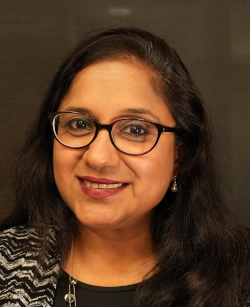 Anandi Nagarajan, MS, EdM, PhD
Assistant Vice Provost for Pedagogy
Anandi collaborates with faculty, admin­is­tra­tors, educational technology experts and pedagogy specialists across the university to develop programs and strategic initiatives to support teaching and learning. She has over 20 years of experience in higher education as an instructor, instructional designer, researcher, and leader. Her specialties include: problem-based learning, formative assessments, reflective practice, and active learning strategies to support faculty development and student learning experiences. She reports to Vice Provost of Educational Technologies, Clay Shirky. Anandi has an EdM in Learning, Cognition & Development and a PhD in Educational Psychology from Rutgers University. She earned her undergraduate degree from SNDT University in Mumbai, India, and also has an MS in Resource Management from Virginia Tech.
Scott Henkle
Assistant Director, Learning Experience Design
Scott's nearly 20 years as a teacher of writing and literature led him to a career working to improve educational experiences and outcomes for all students. In his time at NYU he has been involved in everything from large-scale University-wide projects to the development of day-to-day classroom engagement strategies. Prior to joining NYU he designed courses for faculty seeking to enrich their online classrooms with improved pedagogy. He is particularly interested in centering the student in the classroom, how authentic assessment can lead to learning, and how online spaces can create an evolving potential for collaboration. Scott has an MFA in fiction writing from the University of Washington and a long-standing research interest in the relationship between creativity and learning.
Anton Borst
Anton develops programs and services to support effective teaching practices across NYU, where he has also taught in the first-year seminar program in the College of Arts & Science and at the School of Professional Studies. He received his PhD in English from the Graduate Center of the City University of New York and his BA from the University of Notre Dame. He is co-author of The Craft of College Teaching: A Practical Guide (Princeton UP, 2020) and co-editor of Critical Reading Across the Curriculum, Volumes I and II (Wiley-Blackwell, 2017, 2020).
Daeyeoul Lee
Daeyeoul's strong background in instructional design and technology has led him to a career dedicated to enhancing teaching and learning. Prior to Joining NYU, he worked as an instructional designer. He designed online, blended, and face-to-face courses with a partnership with faculty members by employing pedagogies and technologies. He also developed training materials, delivered several instructional technology and pedagogy workshops, and provided technical support. He has a PhD in Learning Design and Technology from Purdue University. His research is centered on self-regulated learning, online and blended learning, and MOOCs. He also has extensive experiences in conducting NSF-funded research projects in the engineering education field.
Tarun Charaipotraa
Tarun leads all LED work planning, managing, and creating media content including virtual reality simulations, animated videos, graphic design, and other educational media across the university. He combines an artistic eye with a knack for technology, focusing his lifelong training in fine arts into a career in 3D animation and visual effects. Tarun has worked for more than 15 years in New York's animation industry, serving as a digital artist and producer for many high-profile advertising and television projects. He holds a BFA in Film & Television from NYU Tisch School of the Arts. Outside of his career in animation, Tarun focuses on writing music, honing his painting skills, and exploring technology to find ways to keep creating.